Leaving a legacy may mean passing down one's wealth to beneficiaries and loved ones or preserving for future generations the family's traditions, values, and journeys.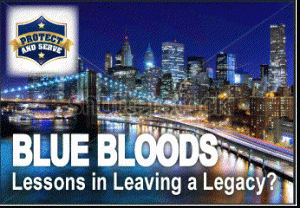 Leaving a legacy is not about material things. It's preserving family traditions and values for future generations.
It always amazes me that watching a few hours of TV can stimulate ideas for a blog article.
While channel surfing recently, I skipped over the credit card commercial with the tagline "What's in your wallet?" and landed on an episode of Blue Bloods.
If you're one of millions of Americans who tune in each week to watch Blue Bloods starring Tom Selleck and Donnie Wahlberg, you are familiar with the four generations of Reagans – a close-knit Irish Catholic family with a proud legacy with the NYPD.
On the surface, the series may appear to be just another cop show where the key players wear the blue uniform "to protect and serve."
But, according to executive producer Leonard Goldberg, that's just the backdrop for an exciting drama that showcases the old-fashioned family traditions and values with which he himself grew up. Much of what you see in the script writing is drawn from Goldberg's own experiences when he was growing up in New York City during the 1930s and '40s. And, it's been said that Tom Selleck himself also has input into the final script.
Looking through the lens of an estate planning attorney

From my perspective as an estate planning attorney, it seems to me that Hollywood has created a work of fiction that supports the notion that leaving a family legacy actually begins with living one's legacy. There are a number of parallels that can be drawn between what we see on Blue Bloods, and the process that many of our clients go through in deciding how to create a lasting legacy for future generations.
For some, the definition of leaving a legacy may mean passing down one's wealth to beneficiaries and loved ones. For others, leaving a legacy is not as much about material things as it is preserving for future generations the family's traditions, values, and journeys.
Creating the family's "signature event" as a way of preserving the family's legacy
While the crime-fighting scenes in Blue Bloods are thrilling and getting the bad guys is always a good thing, I am most intrigued by the intergenerational family dynamics that occur around the Sunday dinner table. This is the Reagan family's "signature event." It's the glue that keeps the family relationships strong.
As the widowed Reagan patriarchs sit at opposite ends of the Sunday dinner table, they are drawn into their adult children's and grandchildren's "no-holds-barred" conversations. At the Reagan dinner table, no topic is off limits. Much of it becomes fodder for teachable moments by the elders. Their Sunday dinner has become the forum to remind the younger generation from whence they came and the importance of honoring their family's core values of integrity, loyalty, responsibility, respect, and fairness. It is here that family conflicts are aired, bonds are strengthened, burdens are shared, and even reprimands are given.
Setting the stage for the next generation
If the Reagan family were real, the patriarchs could have an estate plan in place to ensure that the family's signature event continues after their deaths.
And while the interior shots of the Reagan home are actually filmed on a stage set constructed in Brooklyn, it's instructive to note that without the existence of a "bricks-and-mortar" paternal family home and seating for ten at the dining table, their signature event might not take place.
As we pan our camera from the fictional stage set and focus the lens on real life scenarios, it poses serious questions. For example, once the patriarchs have passed on, what happens to the family home where multiple generations have lived and gathered for their family's signature event?
Did dad or grandpa have a written estate plan documenting their wishes about the family home, or will the disposition of the home be decided by the probate courts?
Will the home be sold and the proceeds distributed among the heirs in equal – or disparate – shares?
Will the tradition of a family Sunday dinner continue, irrespective of where it is held?
If the homestead is kept within the family, who gets to live in it?
Which of the children would dad want to sit in his chair during Sunday dinner?
In today's modern society, it is inconceivable for many to imagine four generations of family members living in the same town, let alone gathering every week for Sunday dinner. Today, many children grow up and take jobs miles from home and raise their children without the support of an extended family.
But while the Reagan intergenerational family model may seem idealistic yet unrealistic in today's world, families can still create meaningful traditions that transcend geographic borders as they set about crafting a lasting legacy for future generations. It simply takes thought, commitment, and counsel.
Crafting an estate plan that reflects your values and legacy
There are no boundaries in terms of the creative ways that families choose to preserve and pass on their legacies. Each family has unique cultural practices, values, and family traditions that have survived the generations and are worth preserving.
Before the initial client meeting, we recommend that our clients give thought to what matters most to them, aside from their material possessions. For heirs that are spread around the country, there are methods to incorporate certain wishes into the estate plan in order to unite them in reliving longstanding family traditions.
Develop a family narrative or mission statement that can be passed on to future generations.
Place the family's Cape Cod vacation cottage in a trust for intergenerational family reunions.
Host weddings and other special occasions at the family's timeshare resort in Florida.
Preserve large heirlooms/antiques by financing storage fees out of trust assets.
Record a legacy video that chronicles the family's ancestry for viewing on special occasions.
Digitize vintage photographs of ancestors and share electronic copies with all family members.
Decide who will inherit the signature dining room table.
Summary
While the fictional Blue Bloods series illustrates how traditions such as Sunday dinner can create strong family bonds and reinforce the family's legacy, in real life it doesn't stop there. Careful thought must be given to the sustainability of the family's legacy in a manner consistent with your values and beliefs. The question to be asked is not "What's in your wallet," but rather "What's on your tombstone?" Your legacy puts your stamp on the future and prepares for the day when your seat at the family dinner table becomes empty.